Anne Rice: Victim of Right Wing Fundamentalist Christianity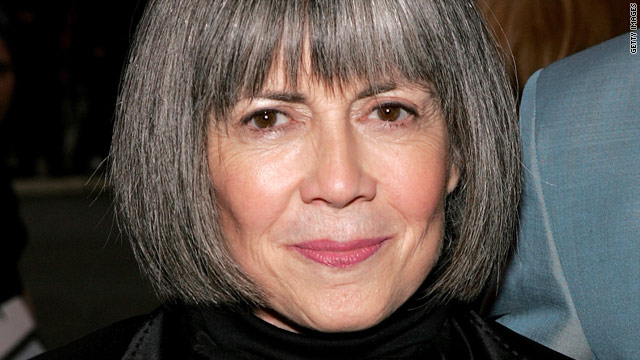 This is really sad, a person like Anne Rice who wrote the series of novels such as "An Interview With A Vampire" has finally left Christianity after 10 years. The reason for her leaving is not Christianity itself or not believing in Jesus, but because of the
Right Wing Fundamentalist Evangelical ideology
that is similar to that of the
Taliban
and Al-Qaeda. Anne Rice had went from writing dark Vampire novels to Christian themed religious books for the last 10 years due to her honest faith in Jesus and Christianity, however the right wing hate mongering against all others has scared her away from Christianity. She no longer believes that she has to hate others such as
Muslims, Democrats, Feminists, Gays/Lesbians, Scientists, etc.
Here is the CNN excerpt:
Legendary author Anne Rice
has announced
that she's quitting Christianity.
The "Interview with a Vampire" author, who wrote a book about her spirituality titled "Called Out of Darkness: A Spiritual Confession" in 2008, said Wednesday that she refuses to be "anti-gay," "anti-feminist," "anti-science" and "anti-Democrat."
Rice wrote, "For those who care, and I understand if you don't: Today I quit being a Christian ... It's simply impossible for me to 'belong' to this quarrelsome, hostile, disputatious, and deservedly infamous group. For ten years, I've tried. I've failed. I'm an outsider. My conscience will allow nothing else."
Rice then added another post explaining her decision on Thursday:
"My faith in Christ is central to my life. My conversion from a pessimistic atheist lost in a world I didn't understand, to an optimistic believer in a universe created and sustained by a loving God is crucial to me," Rice wrote. "But following Christ does not mean following His followers. Christ is infinitely more important than Christianity and always will be, no matter what Christianity is, has been or might
become."
I commend Anne Rice on her insight into the extremism that has been shown in the name of Christianity, however she still chooses to follow Jesus's example and she is still keeping "her faith in Christ", but she no longer adheres to the Right Wing Fundamentalist/Evangelical Christianity that is all over the media and is being promoted by the right wing. She is in the true sense of the word a "real Christian".