A chilling account of the brutal clampdown sweeping Bahrain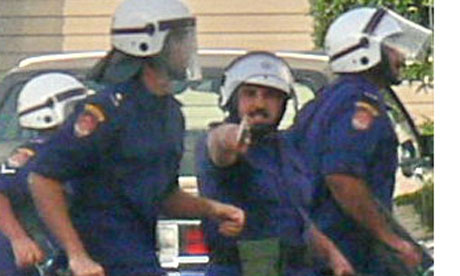 Mahmoud, a Shia who lives near Bahrain's capital tells how Saudi soldiers wage a campaign of sectarian violence:
They managed to catch two people, aged no more than 30, and were beating them up badly, swearing at them all the time and cursing the Shia clerics, saying: "Where is al-Khomeini now? Where is al-Sistani, you Shia dogs?" They took them away. I managed to take a photograph of the blood on the floor after the beating and there was so much. I am sure the man must have died.
READ MORE:
http://www.guardian.co.uk/world/2011/apr/16/bahrain-eyewitness-riot-police