Mirror:
CAIR official exposed as avowed Hamas supporter
Jordan Schachtel · January 16, 2019
Majdi Fathi/NurPhoto | Getty Images
A senior official of the Council of American Islamic Relations (CAIR) who spoke last week at an event celebrating the election of three Muslim members of Congress is an avowed supporter of the U.S.-designated terrorist group Hamas.
Jinan Shbat (who goes by "Jinan Deena" on Twitter), CAIR's national outreach manager, tweeted her support for the Palestinian terrorist group in June, expressing her preference for Hamas over the Palestinian Authority, which governs the Palestinian areas of the disputed West Bank.
Jinan Deena@j_deena

Let's free the people from your pro-Zionist rhetoric.

If people can't understand by now that Hamas was created mid-80s as a resistance to Israel, that they are the only ones fighting for Palestinians from within Palestine (screw the PA), then you all need to just f*** off.

Maajid - (Mājid) [maːʤɪd] ماجد

✔@MaajidNawaz

Replying to @MaajidNawaz

This largely, and sadly, rings true. Free Gaza from Hamas #AlQudsDay

4

See Jinan Deena's other Tweets
Last week, she opened CAIR's congressional reception celebrating Democrat Reps. Rashida Tlaib, Mich., Ilhan Omar, Minn., and Andre Carson, Ind. Shbat spoke prior to CAIR executive director Nihad Awad, who has in the past also declared his support for Hamas. CAIR was founded by Hamas-tied operatives for the purpose of raising clandestine funds for the Gaza-based terror group. Today, CAIR describes itself as a "grassroots civil rights and advocacy group."
This follows news that Rep. Tlaib invited Abbas Hamideh, an open Hezbollah (a U.S.-designated terrorist group) supporter and the executive director of the extremist group Al-Awda, to her inaugural private dinner party. In 2016, Shbat led a pro-Palestinian rally held by Hamideh's Al-Awda. Officials within the extremistorganization have supported terrorist groups and called for terrorist attacks against Israelis.
Jinan Deena@j_deena

#HijabToMe is feeling empowered to lead a rally of thousands in DC. @HuffingtonPost

8

See Jinan Deena's other Tweets
It is unclear whether Shbat was also invited to the private dinner, but she did appear in multiple photos that day with Rep. Tlaib and posted them on social media.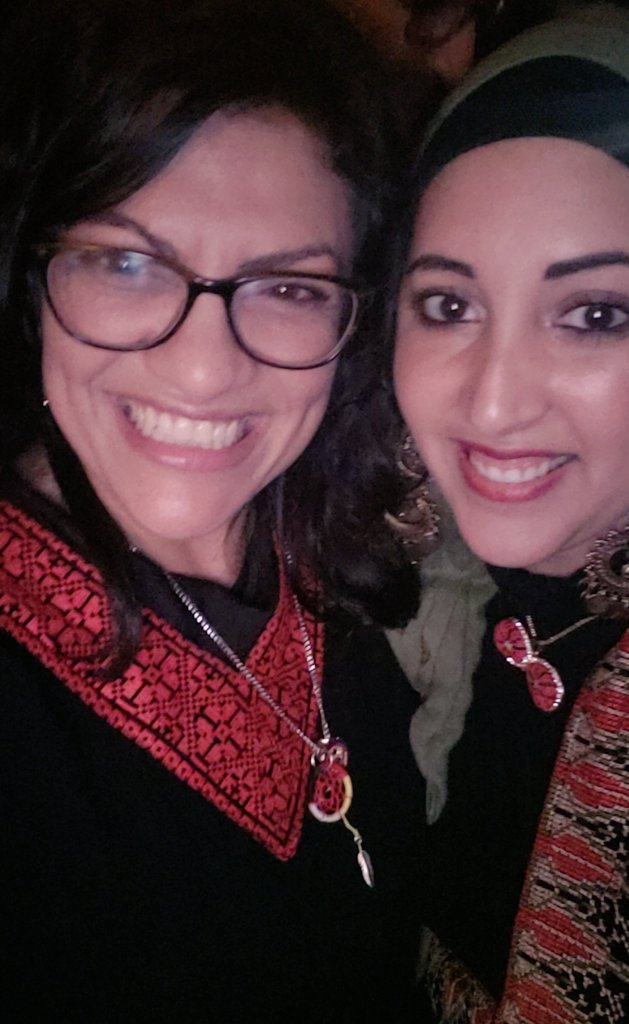 Jinan Deena@j_deena

What an amazing day! Honestly my heart is SO full. Even after a long day she was still smiling and full of energy. So hopeful for the future! @RashidaTlaib

8

See Jinan Deena's other Tweets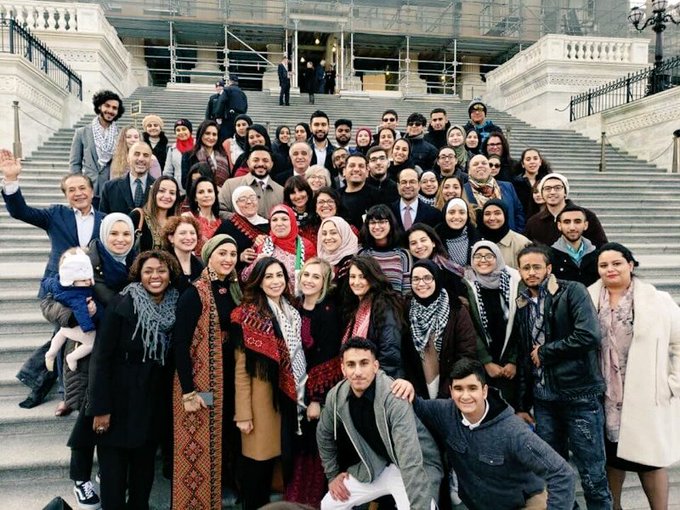 Jinan Deena@j_deena

Post-swearing in photo with @RashidaTlaib #116thCongress #tweetyourthobe #MuslimWomenintheHouse #Palestinian

6

See Jinan Deena's other Tweets
The CAIR official is not just a Hamas supporter. Shbat is a passionate advocate for Israel's destruction, often taking to social media to express her support for the boycott of Israel and for the country's extermination.
Jinan Deena@j_deena

"@HuffingtonPost: Holocaust Remembrance Day begins in Israel http://huff.to/14PNozi " Wow. The nerve! Palestinians are now in a holocaust!

9:07 PM - Apr 7, 2013 · Perrysburg, OH

See Jinan Deena's other Tweets
Jinan Deena@j_deena